When:
October 31, 2021 @ 15:00 – 17:00
2021-10-31T15:00:00-04:00
2021-10-31T17:00:00-04:00
Contact:
Aux Petits Soins
(517) 999-7277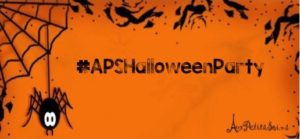 Please join us this Sunday, Oct. 30, as Aux Petits Soins™ hosts its Fourth Annual Halloween Party! The three previous events were a HUGE success – and this year will be EVEN BETTER, with two hours of games and crafts !
More details to follow soon. 
SAVE THE DATES
---
Jan. 9, 2022: 6th Annual APS King Cake Party
Feb. 6, 2022: 5th Annual APS Chandeleur Party
Feb. 27, 2022: 6th Annual APS Carnaval Celebration
April 1, 2022: 6th Annual APS April Fool's day
May 1, 2022: 3rd Annual APS May Day
June 19, 2022: 4th Annual APS Music Day
July 17, 2022: Inaugural APS Bastille Day Celebration
Subscribe to our cultural events calendar here.