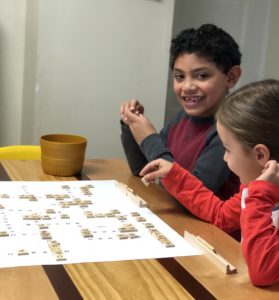 This summer, Lansing-area kids can explore French culture, food and customs at the first-ever Aux Petits Soins Summer Camp. The theme will be "Bastille Day," and will run July 9-13 and July 16-20 from 9 a.m.-noon.
Kids age 5-12 can join us for one or both weeks of fun learning and social activities. Aux Petits Soins' head instructor, Gaëlle, and DeWitt High School French teacher, Katie, will engage kids through active learning vocabulary words for having a basic conversation in French. Campers will also receive a primer on French phonemes (the distinct sounds particular to foreign languages) that will better enable hearing, reading and speaking fluent, accent-free French.
Kids will get their hands on French culture through cooking lessons in our brand new kitchen, board games, and art classes. The goal is introduce kids to a new language and culture, and to make French fun and a memorable experience. Please, Contact us for more information.
Registration is now open. To register, please fill out the registration form, then pay online.
Registration form
---
Please review Aux Petits Soins school policies before filling form.
Note: The information provided on this form will be used to begin your enrollment paperwork, which must be completed in person by a parent or guardian at Aux Petits Soins any time before your child's first class. Due to limited class size, no spots can be held for students until paperwork is complete and you make your first payment. You can pay online via PayPal or bank transfer; we also accept credit cards, checks and cash in the office.
Pay online
---