[wpdevart_countdown text_for_day="Days" text_for_hour="Hours" text_for_minut="Minutes" text_for_second="Seconds" countdown_end_type="time" end_date="22-11-2018 23:59″ start_time="1542909113″ end_time="3,11,4″ action_end_time="hide" content_position="center" top_ditance="15″ bottom_distance="15″ ][/wpdevart_countdown]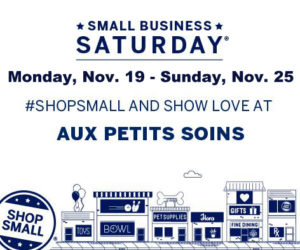 Give the gift of French culture this holiday season. At Aux Petits Soins™, we offer French language classes for students of all ages – and serve as the hub for French culture appreciation in mid-Michigan.
We're a language immersion program for babies, kids and adults that really works. We use an innovative language education system called Listen. Absorb. Speak.™, drawing on the latest theories of early childhood development and cutting-edge cognitive research on the brain's ability to assimilate new language at any age. 
Our everyday prices are already incredibly low, so we have very little flexibility to offer discounts at other times of the year. But this Small Business Saturday, we're getting in on the fun and offering these specially discounted classes ­starting Monday, November 19 – including waiving our initial enrollment fees – to reach out to new students and fill our ever-expanding class schedule.
Children's classes ($1 off per class per 12-week session): 
Three levels of Explorers: 1 (ages 6-18 months), 2 (ages 18 months-3 years) and 3 (ages 3-5) – was $168, you pay $156*
Three levels of Travel Bugs: 1 (ages 5-7), 2 (ages 7-9) and 3 (ages 9-12) – was $210, you pay $198*
*$15 enrollment fee, covering cost of class materials, is waived as part of this special
Adult classes ($20 off per 12-week session): 
Two levels of Ensemble: 12 weeks of French instruction for $280* (regular price: $300)
*$25 enrollment fee, covering cost of class materials, is waived as part of this special
We've already enabled a new generation of babies here in Lansing to embark on paths to being fully bilingual. We've also helped a small community of adults realize their lifelong dreams of learning French. Our two-prong approach allows us to tweak the old saying: The best time to learn a new language is when you're a child; the second-best time is right now.
Offer only good for Winter Session: Jan. 7-March 31, 2019. Offer not to be combined with any other discount.